Jennifer Soucie
I go by Jenny, I work at Ummati perinatal, long distance, on the computer. Inuit knowledge is being learned here. It is enjoyable to learn Inuit knowledge, no matter what it is.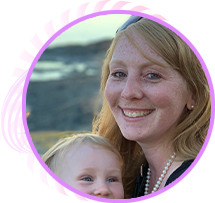 JACLYN MCDONALD
Jaclyn MacDonald has lived in Nunavut for 10 years and has two children. She started her career in Nunavut as a teacher and now currently works for the Uummati program. Her role in the Uummati program is more administration based with her main focus being program organizing as well as formatting and editing documents.
STEVEN BILL
Steven grew up in Nunavut, having lived over 10 years between Rankin Inlet and Iqaluit. After teaching high school internationally for several years, Steven received his Masters in Professional Communications in 2011 and began a career in public health comms shortly thereafter. He has also taught digital media marketing at the community college since 2017. Steven brings to the Uummati team a wealth of knowledge in the areas of digital communications and technology as well as curriculum development and delivery.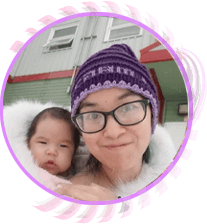 MAGGIE AQPIK
We are pleased to welcome Maggie Aqpik to the Uummati team! Maggie is bringing her passion for perinatal care to her new role as Uummati Communications Assistant!
Maggie is a former participant of the Perinatal workshops when she was pregnant with her 3rd baby Astrid. Since then she has joined us in focus groups, discussion and modelling for Uummati content. Maggie was raised in Kimmirut and now lives in Iqaluit with her partner and 3 daughters.
She recently completed the Uummati Perinatal Support online professional development training where she advanced her skills in traditional Inuit birthing knowledge and doula care. We are excited for her to take on more of the Uummati social media and communications.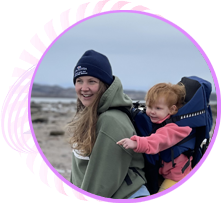 BECCA BARRY
Becca grew up in Nova Scotia before moving to Wabasca, AB in 2014 then Baker Lake in 2018. Pregnant with their fourth baby and waiting on a diagnosis for their youngest daughter, Becca and her family moved to Iqaluit in 2020 with hopes to stay in Nunavut. After her last baby was born with the incredible support of her nurse at the Qikiqtani General Hospital and the results came back about her daughter's rare chromosomal abnormality, Becca and her family decided it would be best to be close to family out East. She works from home on PEI creating content for Uummati and misses Iqaluit every day.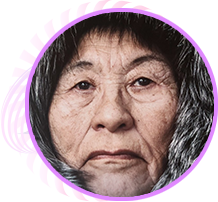 SUSAN AVINNGAQ
Angutauttuq Susan Avinngaq was born in an Iglu. Her grandmother (her mother's mother) was helping her mother when she was born.  It was a Sunday and she was a third child. She had two children who were born out on the land in a tent. Three of her children were born in a nursing station in Iglulik and Sanirajak. Starting with her 6th child and onwards, her children were born in the Iqaluit hospital (at the time it was Frobisher Bay). When she was taken to get married, before having children, the new family she was living with never told her what to do. From her mother, she had heard that as soon as when you wake in the morning, you have to go outside and she was encouraged to walk. She heard that she was supposed to eat nutritious foods.  She would be asked what she wanted to eat. She heard from her mother that sometimes there are ladies who have morning sickness and they would be asked what they wanted to eat. They would try to get her something so that she will not have morning sickness.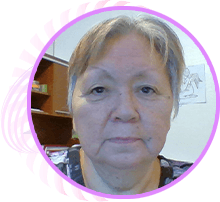 NATSIQ KANGO
Natsiq was born  and raised in Iqaluit and moved to Arctic Bay to raise her own family. she has a business background in different businesses and went to Sir Martin Frobisher School for her education. She now has children and grandchildren. She was elected to Nunavut Tunngavik Inc. as Secretary\Treasure for three years, as well been a Town councilor in Iqaluit for 3 years. She was also a member of SOGC, Society of Gynecologist of Canada, Canadian Midwives of Canada, Midwives of Nunavut member and Executive member as well. she was Adoption Commissioner for Nunavut since 2011. She  worked as a counselor at Inuksuk High School for 4 years, one year in Inuujaq School in Arctic Bay. She is now working for Baffinland Mines, as Community Resource Coordinator. She speaks and writes both Inuktut and English.
DONNA KEENAINAK
Donna is the Program Support Worker of the Uummati team. She is our main recruiter, marketer, and participant liaison. She is also training to be an Uummati Perinatal Support Worker on the job. Donna herself was a teen mother and a part of the Suputiit young mothers program at Inuksuk High School. The program was not sustainable but extremely beneficial. Uummati is planning on filling that void as they are developing their own youth program to run. Donna is training to become the main facilitator of the Uummati youth perinatal group. Donna is a mother of three. She has an eleven year old son and a twin boy and girl. She is excited to be a part of the Uummati program and help grow it to support more and more Nunavut families.
DR. SEAN DOHERTY
Sean Doherty is a family physician who grew up in the communities of Kimmirut, Arctic Bay, Nanisivik and Iqaluit on Baffin Island. Sean works at Qikiqtani General Hospital where he is involved in providing prenatal and birth care to women from across the Qikiqtaaluk region. Sean enjoys yoga, swimming and travel in his spare time.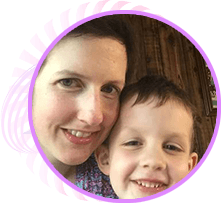 DR. FIONA MAIN
Fiona Main is a family physician practicing in Iqaluit.   She enjoys providing prenatal and labour and delivery care, and has a particular interest in breastfeeding support. She is originally from Arviat, Nunavut, and is mother to two beautiful boys.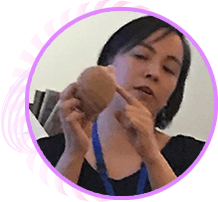 SUSIE PEARCE
Susie Pearce is from Iqaluit, Nunavut. She is a mother, a lactation consultant and a nurse of 13 years. She is a graduate of the Nunavut Arctic College nursing program. She is passionate about teaching and sharing breastfeeding knowledge. She has been involved with Arctic and competitive sports for 27 years and believes in active lifestyle and healthy living.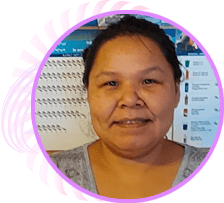 SEEPOOLA NAUYUK
Seepoola Nauyuk is the CPNP ( Canadian prenatal nutrition program) coordinator for Tasiuqtigiit society. She is a mother who grew up in Pangniqtuuq and lives in Iqaluit. She adds valuable insight in the perinatal world with her ongoing programming and work with pregnant people and new parents.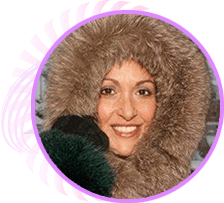 REBECCA LONSDALE
Rebecca has been an RN for 14 years, and graduated with a BScN in Nursing from Dalhousie University (NAC – Arctic Nursing) in 2006. "The accumulated experience that I have gained through nursing in Nunavut, (and mostly at QGH) has allowed me to practice various specialty areas in nursing. Although there are many rewarding experiences that I can note throughout the duration of my career, the most difficult and stressful learning experiences turned out (later) to become my favorite specialties – which is obstetrics, neonatal nursing, and pediatric care. The knowledge and teachings contained within my culture, is often not what anyone will find in traditional modes of contemporary learning formats or institutions (such as nursing programs, health text books and journals, colleges and universities, and other typical modes of teaching and learning throughout the life spectrum). I have been fortunate to have both – cultural and medical access to prenatal care. I have also been able to build and apply these aspects into my nursing practice over the years. It is my hope that cultural health resources and programming in Nunavut, can become more accessible for everyone. Furthermore, it is also my hope to empower Inuit to promote the existing cultural knowledge – in the context of health – in the formats and approaches that are chosen by Inuit. It really comes from a place of gratitude and empowerment for me, to see projects such as the Uummati Program, to begin to flourish and gain forward momentum, in an effort to support Inuit women and their families. Thank you for inviting me to become a part of this advisory group. I'm looking forward to collaborating with everyone in this program."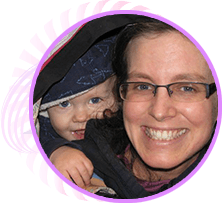 MARIE-FRANCE TALBOT
Marie-France is a mother of 4 children (3 boys and 1 girl who died shortly after birth). She is passionate about the perinatal period and empowering families during this time. She is a full-spectrum doula, which means that she is comfortable supporting families regardless of the pregnancy outcome. She is also a La Leche League Leader, so she offers mother-to-mother breastfeeding support. In her free time, she likes to knit and cook for her family. Marie-France and her family have called Iqaluit home for the last 7 years.
Uummati Perinatal Support Program Disclaimer Agreement
Uummati Perinatal; Support Program offers information on traditional and physiological childbirth and a variety of other topics that cover non medical support in the perinatal period.   This training program is designed for educational purposes only. Any participant should not rely on this information as a substitute for, nor does it replace, professional medical advice, diagnosis, or treatment. If you or any client have any concerns or questions about your health, you should always consult with a physician or other health-care professional. Uummati Perinatal Support instructors are independent childbirth educators and facilitators and the opinions and ideas represented in classes and online are that of the instructor, not Uummati Perinatal Support Program.
All Uummati Perinatal Support information are provided as a informational training. By attending this training, you are receiving information and resources.  What you do this information does not hold us liable. Uummati Perinatal Support Program, Tasiuqtigiit Hand in Hand Society and affiliates are not responsible or liable for any consequence resulting from acting upon the contents of this program.
© Copyright 2021 Uummati Support Program